Property Staging
---
Make a lasting impression with your first impression. 
Properties aren't just investments; they're always going to be homes before anything else. Knowing how a space is going to be used, maximising its potential and providing creature comforts through property staging turns a house into a home, and sells the dream lifestyle to buyers or renters. In turn, this leads to greater results as potential residents fall in love with your property.
Property staging is presenting homes in their best light to showcase their true value - it's so much more than adding furniture to a room. It's about creating an aspirational lifestyle that appeals to the target market, giving people a glimpse into how their lives will be much better off in your property than anybody else's.
For example, where the sofa is placed - should it be facing a media unit for binge-watching the TV? Is there room to place an armchair nearby, so everyone is close by and can talk to one another?
In todays world of working from home is there space to create a home office, or a 'man cave' to unwind in after a hard days work
And the little touches are what can seal the deal. Maybe bright scatter cushions are needed to provide an extra layer of comfort and to add a pop of colour. Decorative throws can be strategically placed to sell the cosy nature of the room.
Do you need help in this area? If so come and talk to us or message us with your requirements
IMMEDIATE AVAILABILITY: FURNITURE FOR STAGING
The best thing about using us to stage your property is that you get instant access to our stock. 
Simply arrange for us to assess your needs and we'll take it from there, giving you the perfect solution to property staging.
This will allow you to give the option to sell or rent your property fully furnished, or have the option for us to buy back your furniture once your property sells
We can supply
Sofas & armchairs

Coffee tables

Media units

Dining tables & chairs

Beds

Home office desks and chairs

Soft furnishings such as cushions and rugs
How to Furnish a Holiday Let and Make Your Property Stand Out
How your holiday home looks is undoubtedly one of the key factors to influence any holidaymaker's decision to book your property (or not).
However, getting the right look for the right target audience isn't easy – how do you design a holiday home that absolutely everyone will like?
The simple answer is that you can't.
But that's ok because you are not trying to attract everyone. You're likely to have specific niches or market your accommodation is already aimed towards, and that should be the focal point when you're thinking about how you style and decorate your holiday cottage.
And thats where we can help. Whether you want a high end feel with rich leather Chesterfield sofas and plush velvet accent chairs, or do you want budget friendly hard wearing pieces suitable for kids and pets?
Regardless of your target market, there are some style fundamentals to be aware of from the start. Old-fashioned, thrown-together designs can look hideous and off-putting, whilst overly-coordinated colours and patterns can look OTT, and dull colours dreary.
And nobody wants 'average'. The truth is — and whether they know it or not — holidaymakers will always want an 'equivalent' or 'better than' standard of what they are already used to at home when they book a holiday home.
Ideally, you'll want a property that is kitted out so it grabs attention, but also looks like it will be a relaxing 'retreat' that people can enjoy. You want it to be positively oozing with potential when it comes to your prospects visualising it as a place for memories, good times, and that all important instagram tagged post.
Good quality furniture is essential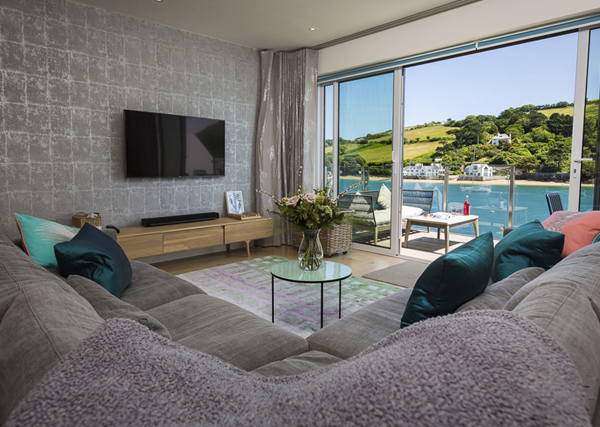 A holiday home will naturally see many different guests throughout a season, so it is worth thinking about the longevity of your décor and furnishings. View items of furniture as an investment – sometimes spending a little more money on good quality, hard-wearing pieces will ensure they look better for longer and won't need replacing as often.
Easy to clean and practical furnishings
You want guests to enjoy their visit and not have to worry about getting things grubby. So, thinking practically and providing items that are easily removed or cleaned are always a good bet. It's also worth being practical about your furniture too – if your holiday let caters to large groups or children, perhaps opt for glasses and crockery that aren't too expensive or difficult to replace.
How your holiday cottage looks and feels will ultimately help set you apart from the competition. The best part though? You don't necessarily have to blow the budget to style your property.
To help inspire you, we can help put pieces together that will help you turn your holiday let into an attractive dwelling for holidaymakers. So what are you waiting for - get in touch so we can help turn your vision into a reality